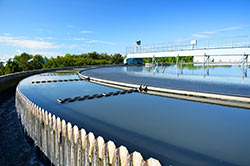 Advanced Waste Water Treatment operates as a full-service water treatment facility. Our typical customers are large oil companies, petroleum marketers, municipal entities, industrial facilities, and any other businesses that operate, maintain, and service underground storage tanks. Our company is authorized and insured to accept, treat, and discharge petroleum-impacted waters associated with the removal, collection, or clean-up of virgin petroleum. We provide practical and reliable solutions to oil and gas companies in overcoming difficult technical challenges unique to their industry.

We have the capabilities to schedule and recycle the following types of virgin petroleum:
Gasoline.
Ethanol-phased gasoline products.
Diesel fuel.
Fuel oils.
Kerosene.
Aviation fuels.
Cross-dropped or blended petroleum mixtures.

Reasons to Partner with AWWT:
We are the only wastewater treatment plant on Long Island
certified to accept your oil & petroleum impacted water.
Competitive pricing options.
Committed customer care.
Flexible hours, Monday through Saturday.
No minimum load requirements.
We have the ability to perform a real cost analysis to show the benefits of using AWWT vs. your current treatment facility. REQUEST A FREE ASSESSMENT
To learn more about our Wastewater Service, call us today at (631) 213-1324 to speak with a representative.
The Clear H2O Method
Assess

AWWT conducts preliminary assessments of your systems, facility, and processes to determine productive methods for wastewater removal, management, and treatment.

Control

Through a patented technology, AWWT will implement the most effective treatments based on our investigatory findings and your wastewater management needs.

Safeguard

Collectively we will achieve and maintain "green and clean" solutions through protection and management planning of your future wastewater treatment methods.
REQUEST A FREE ASSESSMENT
Read blog

"San Francisco Wants To Lead The Future In Water And Wastewater Resources"
Few organizations are in a better position to affect our approach to c...
Read More >>

"Harvey Leaves Challenges In Texas, From Drinking Water To Rent Payments"
Harvey is finally out of the picture — but the storm's dev...
Read More >>

"The Water Cycle"
Earth's water is always in movement, and the natural water cycle, also...
Read More >>