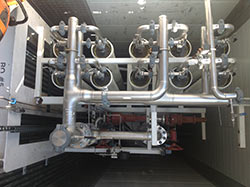 Advanced Waste Water Treatment Corp. utilizes electrochemical treatment technology to remove contaminants from aqueous streams (electrocoagulation). Electrocoagulation ("EC"), ("electro," meaning to apply an electrical charge to water, and "coagulation," meaning the process of changing the particle surface charge by allowing suspended matter to form an agglomeration), is an advanced and economical water treatment technology. EC removes suspended solids to sub-micrometer levels, breaks emulsion such as oil and grease or latex, and oxidizes and eradicates heavy metals from an aqueous waste stream by utilizing an electrical current to cause a chemical reaction. In most cases, this result is normally achieved without the use of filters or the addition of separation chemicals, except in certain rare instances where the inclusion of additional chemicals is necessary to remove certain types of metals or contaminates from the water.

The EC process forces a reaction in the various compounds, which produces a number of effects depending on the species present. But generally, contaminants are reacted to their most stable state and then are removed from the wastewater by a number of secondary solids separation techniques.

EC uses a proprietary treatment chamber and electricity to treat a wide range of differing waste streams containing heavy metals, virus, bacteria, pesticides, arsenic, MTBE, cyanide, biological oxygen demand (BOD), total dissolved solids (TDS), and total suspended solids (TSS). EC is primarily used to treat municipal, industrial, and commercial wastewater.

Schedule with us today by calling (631) 213-1324 and speak to an AWWT professional today.
The Clear H2O Method
Assess

AWWT conducts preliminary assessments of your systems, facility, and processes to determine productive methods for wastewater removal, management, and treatment.

Control

Through a patented technology, AWWT will implement the most effective treatments based on our investigatory findings and your wastewater management needs.

Safeguard

Collectively we will achieve and maintain "green and clean" solutions through protection and management planning of your future wastewater treatment methods.
REQUEST A FREE ASSESSMENT
Read blog

"San Francisco Wants To Lead The Future In Water And Wastewater Resources"
Few organizations are in a better position to affect our approach to c...
Read More >>

"Harvey Leaves Challenges In Texas, From Drinking Water To Rent Payments"
Harvey is finally out of the picture — but the storm's dev...
Read More >>

"The Water Cycle"
Earth's water is always in movement, and the natural water cycle, also...
Read More >>