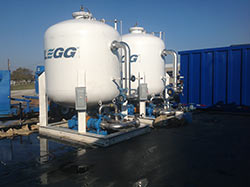 While the term "recycling" is generally applied to cans, bottles, and newspapers, water can also be recycled.
The reuse of treated wastewater is beneficial purposes such as:
Agricultural and landscape irrigation.
Construction purposes.
Industrial processes.
Toilet flushing.
Replenishing a ground water basin.

Water recycling is used synonymously with water reclamation and water reuse and can generally be recycled and reused onsite. Collecting, recycling and reusing wastewater is beneficial because of the following:

Reduction in the amount of pollutants to the environment and allows for those pollutants to be properly disposed of.
Reduction in costs of operation by saving water.
Demand on freshwater is eased during times of drought and water use restrictions.
Reduction in the risk from litigation by increasing compliance with federal, state and local clean water regulations.
Elimination of continuous sewer discharge.
Helps with the elimination of illegal discharges to storm drains.


Advanced Waste Water Treatment Corp's water recycling Clear H2O systems are available and are the best method of allowing wastewater to be recovered and used over and over. AWWT is able to provide an analysis of your current systems in place and provide a frank assessment of constraints and will assist you with the development of a plan of action. Our EC systems are the first step to an effective waste minimization and water recycling program.

If you would like to learn more about water recycling,
call us today at (631) 213-1324 and speak with a representative today.
The Clear H2O Method
Assess

AWWT conducts preliminary assessments of your systems, facility, and processes to determine productive methods for wastewater removal, management, and treatment.

Control

Through a patented technology, AWWT will implement the most effective treatments based on our investigatory findings and your wastewater management needs.

Safeguard

Collectively we will achieve and maintain "green and clean" solutions through protection and management planning of your future wastewater treatment methods.
REQUEST A FREE ASSESSMENT
Read blog

"San Francisco Wants To Lead The Future In Water And Wastewater Resources"
Few organizations are in a better position to affect our approach to c...
Read More >>

"Harvey Leaves Challenges In Texas, From Drinking Water To Rent Payments"
Harvey is finally out of the picture — but the storm's dev...
Read More >>

"The Water Cycle"
Earth's water is always in movement, and the natural water cycle, also...
Read More >>