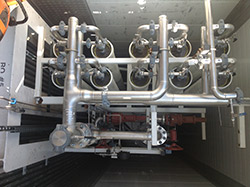 Assess
Before Advanced Waste Water Treatment Corp. can determine whether EC is the appropriate treatment option for a particular type of wastewater, it must undertake a thorough due diligence site assessment evaluation. Depending on the type of industry, AWWT will undertake a complete fact-finding investigation and will consider such things as water samples, quantity of gallons per hour, components needed or required, electricity source, etc. We can also conduct a complete physical inspection of the site to determine whether a custom treatment device is required to be installed or whether a mobile unit is sufficient. Quite often, we find our systems can be easily configured to integrate with most sites.
Control
After we have completed our assessment, we will then present you with a comprehensive report, which contains our findings and list of options regarding which of AWWT's technology solutions can be offered in your particular water treatment situation.
Safeguard
We can analyze and address whatever the water treatment need is by executing any long-term solution for a clear waste stream by designing a water treatment strategy suited to your needs. AWWT will continue to monitor the process to assure the treatment solution is working consistently and to your satisfaction.
If you would like to learn more about our process, call us at (631) 213-1324 and speak with a representative today.
The Clear H2O Method
Assess

AWWT conducts preliminary assessments of your systems, facility, and processes to determine productive methods for wastewater removal, management, and treatment.

Control

Through a patented technology, AWWT will implement the most effective treatments based on our investigatory findings and your wastewater management needs.

Safeguard

Collectively we will achieve and maintain "green and clean" solutions through protection and management planning of your future wastewater treatment methods.
REQUEST A FREE ASSESSMENT
Read blog

"San Francisco Wants To Lead The Future In Water And Wastewater Resources"
Few organizations are in a better position to affect our approach to c...
Read More >>

"Harvey Leaves Challenges In Texas, From Drinking Water To Rent Payments"
Harvey is finally out of the picture — but the storm's dev...
Read More >>

"The Water Cycle"
Earth's water is always in movement, and the natural water cycle, also...
Read More >>