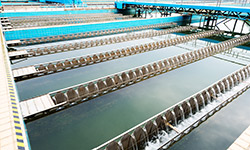 Advanced Waste & Water Technology provides innovative and sustainable water treatment solutions with an emphasis on global environmental issues and the protection of natural resources. These objectives are accomplished through highly specialized analytics and research. Our experienced staff offers state-of-the-art capabilities, including diverse applications of electrocoagulation technologies.

Areas in which AWWT can help in this regard are listed as follows:
Water treatment facility optimization.
Treatment of industrial wastewater and produced water.
Emerging technology development and evaluation.
Water cleaning, recycling and treatment technology.
Assess
Before AWWT can determine whether EC is the appropriate treatment option for a particular type of wastewater, it must undertake a thorough due diligence site assessment evaluation. Depending on the type of industry, AWWT will undertake a complete fact-finding investigation and will consider such things as water samples, flow rate, components needed or required, electricity source, etc. We will also conduct a complete physical inspection of the site to determine the proper configuration of the system to be installed.
Control
After we have completed our assessment, we will then present you with a comprehensive report, which contains our findings and a list of options regarding which of AWWT's technology solutions can be offered in your particular water treatment situation.
Safeguard
Here at AWWT, we can accommodate whatever the need is by implementing any long-term solution for a clear waste stream by installing a customized water treatment system that can be configured to fit any client need; if contracted, we will include regularly scheduled maintenance calls and provide training as necessary.

If you would like to learn more about our Analytics, call us at (631) 213-1324 and speak with a representative today.
The Clear H2O Method
Assess

AWWT conducts preliminary assessments of your systems, facility, and processes to determine productive methods for wastewater removal, management, and treatment.

Control

Through a patented technology, AWWT will implement the most effective treatments based on our investigatory findings and your wastewater management needs.

Safeguard

Collectively we will achieve and maintain "green and clean" solutions through protection and management planning of your future wastewater treatment methods.
REQUEST A FREE ASSESSMENT
Read blog

"San Francisco Wants To Lead The Future In Water And Wastewater Resources"
Few organizations are in a better position to affect our approach to c...
Read More >>

"Harvey Leaves Challenges In Texas, From Drinking Water To Rent Payments"
Harvey is finally out of the picture — but the storm's dev...
Read More >>

"The Water Cycle"
Earth's water is always in movement, and the natural water cycle, also...
Read More >>