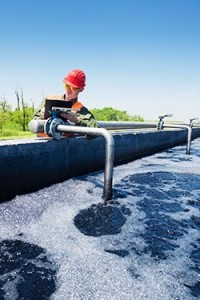 We strive to share and deliver critical knowledge that provides our clients with innovative treatment solutions. Advanced Waste & Water Technology's scientists and technicians have designed wastewater treatment units ranging in size from 3 gallons per minute (GPM) to more than 500 gallons per minute (GPM). Our environmental expertise helps clients assess operations, providing the necessary solutions to solve their wastewater challenges and improve the clients' business performance and efficiency.

AWWT can provide expertise in all facets of wastewater liquid and solids stream treatment ranging from conventional plants for organic removals to complex nutrient removal/resource recovery processes.

AWWT sets itself apart from other water treatment companies by providing clear, innovative, and cost-effective treatment solutions to meet and exceed our clients' expectations. "Wastewater Made Clear" is our tagline for a reason.

Services available to our clients include the following:
Investigation, Planning & Process Design
Advanced Waste & Water Technology will consider the appropriate treatment option for each particular type of wastewater. We will undertake a thorough due diligence site assessment evaluation to determine the exact treatment device that is required to be designed and installed. Through effective and efficient project planning, AWWT will provide comprehensive services and expertise in planning to ensure project success.

Many of our wastewater treatment design projects blend with AWWT's expertise on various project elements:
Process engineering and design.
Civil, electrical, mechanical, chemical, instrumentation and control, structural, and architectural engineering and design, along with technical specifications.
Quality control and value engineering.
Pilot- and demonstration-scale studies.
Existing wastewater treatment plant upgrades.
Site Service Maintenance
Once installed, AWWT technicians are able to conduct monthly or bi-monthly service maintenance visits to replace, modify, or update components of each water treatment system.
Operations, Monitoring, and Control
AWWT's expertise runs the full life cycle of a project to determine ideal practices for operations.

Here are some of those practices:
Plant operations and optimization.
Operator training.
Equipment analysis and evaluation.
Best treatment practices.

We offer our clients fully integrated services that employ a proven method for the strict management of quality, value, customer service, and cost efficiency. From the initial site investigation to the design, manufacture, installation, and service maintenance of each device, AWWT continues to lead the way in the treatment and cleaning of wastewater.

If you would like to learn more about our site services,
call us today at (631) 213-1324.
The Clear H2O Method
Assess

AWWT conducts preliminary assessments of your systems, facility, and processes to determine productive methods for wastewater removal, management, and treatment.

Control

Through a patented technology, AWWT will implement the most effective treatments based on our investigatory findings and your wastewater management needs.

Safeguard

Collectively we will achieve and maintain "green and clean" solutions through protection and management planning of your future wastewater treatment methods.
REQUEST A FREE ASSESSMENT
Read blog

"San Francisco Wants To Lead The Future In Water And Wastewater Resources"
Few organizations are in a better position to affect our approach to c...
Read More >>

"Harvey Leaves Challenges In Texas, From Drinking Water To Rent Payments"
Harvey is finally out of the picture — but the storm's dev...
Read More >>

"The Water Cycle"
Earth's water is always in movement, and the natural water cycle, also...
Read More >>