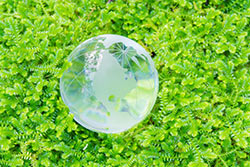 Advanced Waste Water Treatment Corp. is a green-driven company that possesses the most advanced and efficient patented technologies in the "water remediation" industry. We can provide green, sustainable technology to remediate large commercial and municipal water projects that are also economically feasible.
By utilizing these sustainable technologies, AWWT is able to provide clean, remediated, reusable water to commercial, private, and municipal industries while maintaining its reputation as a green organization.
To learn more about our green solutions and initiatives and how you can become involved, call us today at (631) 213-1324.
The Clear H2O Method
Assess

AWWT conducts preliminary assessments of your systems, facility, and processes to determine productive methods for wastewater removal, management, and treatment.

Control

Through a patented technology, AWWT will implement the most effective treatments based on our investigatory findings and your wastewater management needs.

Safeguard

Collectively we will achieve and maintain "green and clean" solutions through protection and management planning of your future wastewater treatment methods.
REQUEST A FREE ASSESSMENT
Read blog

"San Francisco Wants To Lead The Future In Water And Wastewater Resources"
Few organizations are in a better position to affect our approach to c...
Read More >>

"Harvey Leaves Challenges In Texas, From Drinking Water To Rent Payments"
Harvey is finally out of the picture — but the storm's dev...
Read More >>

"The Water Cycle"
Earth's water is always in movement, and the natural water cycle, also...
Read More >>