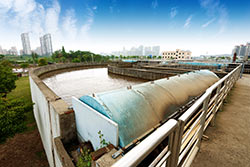 With the capacity of good, clean water in short supply, Advanced Waste Water Treatment™, Corp. (AWWT™) is committed to making a difference. The Management of AWWT has over 100 years of combined experience specializing in construction, design, and management of chemical, non-chemical, and liquid waste removal services as well as waste and water treatment services. Our mission is to provide a variety of water treatment solutions for contaminated water so it can be returned safely to the environment for municipal, private, industrial, and commercial clients in all industries.
AWWT is a green-driven company, possessing some of the most advanced and efficient patented technologies in the "water remediation" industry. We are committed to bringing this technology to the world and alleviating one of the most concerning local, national, and international problems – contaminated and polluted water. Our goal is to help to solve the world's shortage of clean water.
To learn more about AWWT, call (631) 213-1324 to speak with a representative today.
The Clear H2O Method
Assess

AWWT conducts preliminary assessments of your systems, facility, and processes to determine productive methods for wastewater removal, management, and treatment.

Control

Through a patented technology, AWWT will implement the most effective treatments based on our investigatory findings and your wastewater management needs.

Safeguard

Collectively we will achieve and maintain "green and clean" solutions through protection and management planning of your future wastewater treatment methods.
REQUEST A FREE ASSESSMENT
Read blog

"The Water Cycle"
Earth's water is always in movement, and the natural water cycle, also...
Read More >>

"Wastewater Treatment Water Use"
We consider wastewater treatment as a water use because it is so inter...
Read More >>

"Be Thankful for Clean Water on Thanksgiving"
According to the World Health Organization, roughly 1 in 8 people do n...
Read More >>